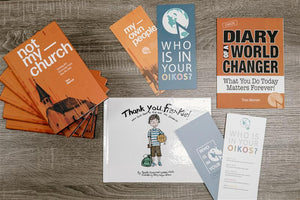 Oikos Movement
Oikos Starter Kit
Regular price
$275.00
Sale price
$299.00
Unit price
per
Here are some resources available to help your church embrace Oikocentric Ministry. Not My Church is a book to help you understand the oikos principle and the resources included are here to help you expand the scope of your ministry. 
Here is what you will get in the Oikos Starter Kit: 
5 Oikos Workshop Online Codes

5 Not My Church books
1 Diary of a World Changer
1 Thank You, Frankie
5 of each of our 4 Oikos Cards (20 cards total)
We hope this is helpful to your team as you embrace oikos in your church! 
---